Sammie X Ceasar
Whelped 6/5/19
4 Females (3 liver, 1 L&W)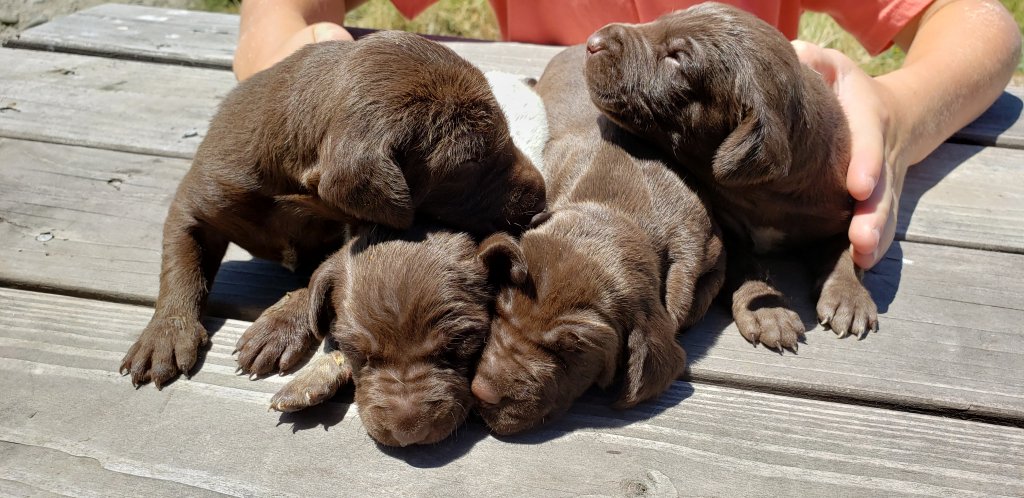 Sammie's Available Puppies
4 Females (3 liver, 1 L&W)
Price – Male / Female:
AKC Limited Registration (non-breeding) – $950
AKC Full Registration – $2,250

To reserve a pick of the litter or puppy, call/text Derrick at 208-451-0523 or email him at derrick@idahoshorthairs.com. If you have read our "Terms of Deposit" and "Puppy Purchase Agreement" and would like to reserve your pick now, use the drop-down option and "Pay Now". The payment amount due is $309 ($9 for the processing fees) payable by credit card or Paypal account. The $300 is applied toward the full purchase price of the puppy. The order of reserved picks is the order in which deposits are received.  We do not take any deposits until the litter has been born.  We do not maintain a call back list so check the website, call or text for litter updates.
Deposits are non-refundable so please review our Terms of Deposits which also explains the time frame of when your reserved pick must be exercised and our Puppy Purchase Agreement.
**BUDDY HAS BEEN REHOMED**
One of our customers has had a life change and needs to re-home "Buddy" as soon as possible.  He has been hunted, loves water and retrieving, and is housebroken.   He was born in Nov 2017 from our Sammie X Ceasar litter.  He's located in Nampa, ID.  Please contact Brent directly for additional information at xxx-xxx-xxxx.